Recipes from the Larder
Here are a few of our favorite recipes using the products you can get right at The Larder.  These have been gathered from many different sources, and we try to identify and credit the contributor when we can.  Do you have a favorite dish or baked item you make with products you buy here?  Use the form at the bottom of the page to let us know, and we may publish it on our site!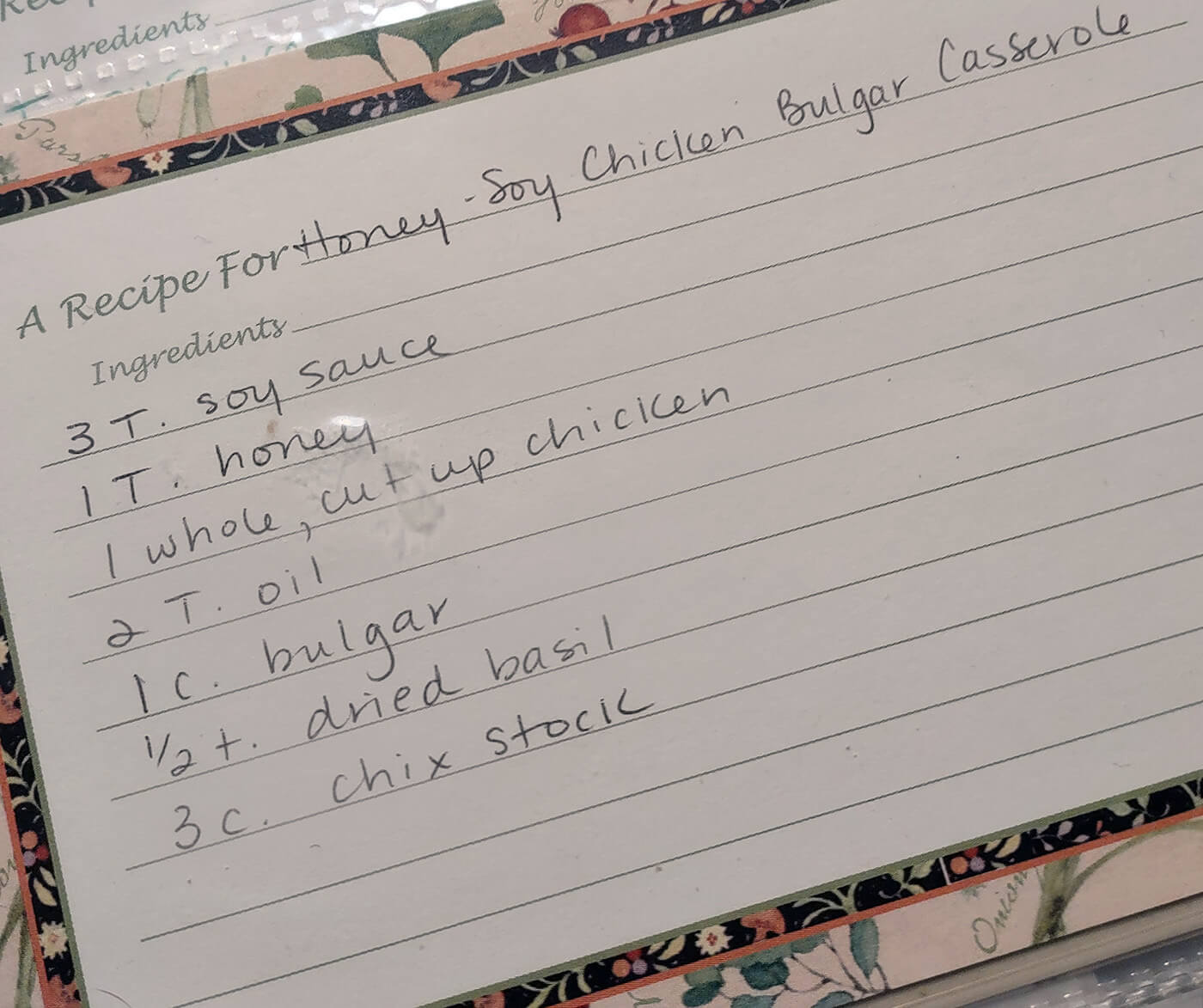 Cake
1 cup milk
¼ cup butter
⅔ cup warm water (about 110°)
½ cup white sugar
2 (.25 ounce) packages active dry yeast
2 eggs
1 ½ teaspoons salt
½ teaspoon freshly grated nutmeg
5 ½ cups all-purpose flour
    Filling
1 cup packed brown sugar
⅔ cup chopped pecans
½ cup all-purpose flour
½ cup raisins
1 tablespoon ground cinnamon
½ cup melted butter
Glaze
1 cup confectioner's sugar
1 tablespoon water
Directions
Cake:
Scald milk over medium heat. Remove from heat and stir in butter. Allow mixture to cool to room temperature.
Stir together warm water, 1 tablespoon white sugar, and yeast in a large bowl. Let stand until creamy, about 10 minutes.
Add cooled milk mixture to yeast mixture and whisk in eggs. Stir in remaining white sugar, salt, and nutmeg. Beat flour, 1 cup at a time, into milk/egg mixture. Once dough comes together, turn it onto a lightly floured surface and knead until smooth and elastic, 8 to 10 minutes.
Place dough in a lightly oiled bowl; turn to coat. Cover with a damp cloth or plastic wrap; let rise in a warm place until doubled in volume, about 2 hours. When risen, punch down and divide dough in half.
Preheat the oven to 375 degrees F (190 degrees C). Grease 2 cookie sheets or line with parchment paper.
Filling:  Combine brown sugar, pecans, flour, raisins, and cinnamon in a bowl. Pour melted butter on top and mix until crumbly.
Assembly:
Roll each piece of dough into a 10×16-inch rectangle. Sprinkle filling evenly over dough and roll up tightly like a jelly roll, beginning at a wide side. Bring the ends of each roll together to form 2 oval-shaped rings.
Place each ring on a prepared cookie sheet. With scissors, make cuts 1/3 of the way through the rings at 1-inch intervals. Let rise in a warm spot until doubled in size, about 45 minutes.
Bake in the preheated oven until an inserted toothpick comes out clean, about 30 minutes. Check often for doneness so the ring doesn't overbake.
Decorate:  Mix the confectioner's sugar and water together until smoothly blended.  Drizzle over cake and sprinkle with yellow, green, and purple sanding sugar.
Ingredients
1 lb  Andouille Sausage
2 Tablespoons Olive Oil
1 Cup Chopped Onion
1 Cup Chopped Fresh Green Pepper
½ Cup Chopped Celery
1 Teaspoon Minced Garlic
1 Tablespoon Dried Parsley
1 Teaspoon Dried Basil
¼ Teaspoon Cajun Seasoning
2 Cans Red Beans
Prepare approximately 1 cup of your favorite rice. 
Slice the sausage into 1 inch pieces and sauté in the oil until the sausage is slightly browned – about 5 minutes.  Add the onion, celery, and pepper and sauté until translucent and tender – approximately 5 more minutes.  Add the herbs and spices.  Drain the beans and mash approximately half of a can and add to the sausage and vegetables.  Add salt and pepper to taste.  
Make Your Own Cajun Seasoning
If you like cajun seasoning and use it regularly, this is a great way to keep it in-house without breaking the bank.  All the ingredients can be found in our herbs and spices section. 
Ingredients
2 Tablespoons Paprika
2 Tablespoons Granulated Garlic or Powder
1 Tablespoon Oregano
1 Tablespoon Salt (Kosher Works Well)
½ Cup Chopped Celery
1 Tablespoon Granulated Onion or Powder
1 Teaspoon Dried Parsley
1 Tablespoon Black Pepper (Freshly Ground)
1 Tablespoon Chili Powder
1 Tablespoon Cayenne Pepper