Winter is Here!
Stop in for all your baking and holiday supplies, from cookie cutters to Santa pops.
The Larder Bulk Foods
Welcome to the Larder in Doylestown, PA.  We've been serving the Central Bucks County area for over 30 years and invite you to visit our store and browse our site.  We stock hundreds of bulk products for all your baking needs, coffees, candies, grains, nuts, seeds, and a whole lot more! Looking for something in particular and can't find it on our site?  Give us a call.  We may still have it or be able to get it.
Why Buy Bulk from the Larder?
There are many reasons that buying bulk foods from the Larder makes sense.  We're a local business, so by purchasing from us, you're helping to build your local economy.  In addition, you can buy as much or as little product as you need – no more leftover boxes in your pantry which you'll never use again.  From an environmental standpoint, buying in bulk helps to reduce wasteful packaging, as you can bring your own containers or use a smaller bag to purchase only what you need.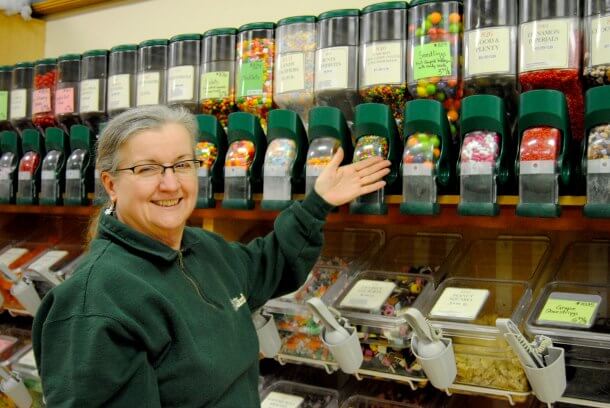 Bring Your Own Container!
One of the biggest problems with buying anything is all the packaging you have to throw away.  Our homes are overrun with paper and plastic with no end in sight!  The Larder can help fix some of that.  Bring your own containers and save the extra packaging.  You can take only what you need while creating less waste.
Here's How it Works…
When you come to the Larder with your own containers, we'll weigh each one and label it with a "tare" sticker.  When you fill up, we'll weigh your purchase as usual, and then subtract the weight of the container.  It's that simple?  Do you have your own spice jars?  Refill them here at a fraction of the cost of retail.  You'll be amazed at how much money you'll save as well as how much less trash you'll have to dispose of.